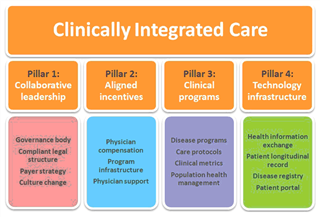 What's in it for me? That's a question systems should ask--and answer--before taking on the challenges of forming a clinical integration program or become an accountable care organization. Failure to create a shared vision, and an informed commitment to that vision despite all obstacles and concerns, can easily derail change management initiatives down the road. It is important to identify likely concerns and objections, and formally articulate a response to them, early on in the planning process.
Some of the most common concerns we've heard from system executives are one or more of the following:
Why change at all?  Fee-for-service is still working for us in this market. In fact, our entire business model is predicated upon it. Specifically, the Medicare penalties for excess rates of readmissions – an early area of focus for many ACOs - are a just a small "cost of doing business" compared to the potential lost revenue from commercial insurers if we really improved in this area.
Why change now?  We've been told before that "the end is near" and that we have to change. Those predictions did not come true then, so why should I believe they'll come true now?  In particular, what happens to ACOs and shared savings-type contracts once all the savings have been wrung out?
Can we afford it?  How much will it cost, and for how long will we have to subsidize the program?  We have a lot of competing demands for dollars.
What's the ROI?  Traditional financial models struggle to find a reasonable return on investment. In fact, some show material losses.
Do we have to partner with "community" physicians to do this?  Many systems have invested heavily in physician employment. Some are struggling to integrate them or to see demonstrably better quality as a result of these investments. Why spend more now with non-system employed physicians?
Here are some of the more common responses to physician concerns:
Better Care for Patients: The investments the network will make in information technologies, care coordination, performance feedback and other initiatives can drastically improve outcomes for patients. It has been demonstrated by other successful clinical integration programs. The vision statement for most every healthcare system talks to the preeminence of caring for the patient. Clinical integration and accountable care structures allow systems to reach whole new levels of quality, value and care.
Responsive to Market Demands

:

The sheer number of ACOs – both Medicare and commercial – that have emerged in just the past year or so is the best evidence that value-based payment arrangements are in demand. More and more insurers are moving to narrow network products too, as employers have become more open to these kinds of models to help rein in their healthcare benefits expense.
Avoid Risks of Non-Participation

:

A common characteristic of ACO and shared savings-type contract arrangements is that network physicians – or at least primary care physicians – can only be listed in one ACO in the market. Furthermore, commercial insurers are moving more and more into narrow network products that only contract with organized networks of physicians – primary care and specialists. Few systems are able to employ enough physicians to satisfy the network requirements of even the narrowest of these networks. As more and more organizations are forming ACOs, and as narrow networks are increasingly introduced to markets, systems face increasing risk of being "left out in the cold" as markets mature around them.
Upside Payment Potential

:

Reductions to "unit price" fee schedules by both Medicare and commercial insurers are widely anticipated. Participation in value-based payment models offer systems some opportunity to access additional payment streams from various "value based" contracting forms that are recently or will shortly be emerging.
The Program Can Increase My Business: 

One of the concerns commonly expressed by system executives is that greater access to primary care services, care coordination and the creation of other efficiencies – typical areas of focus for ACOs – will cut into traditional hospital "profit centers" such as longer than necessary lengths of stay, excessive Level 1 and 2 ER visits, avoidable readmissions, etc. Appropriately designed, there are many ways in which programs can help direct care "in network" to ensure quality- and efficiency-enhancing protocols are followed. Furthermore, many healthcare systems are now contracting with their own clinical integration programs for the health benefits of their employees. Savings realized by more efficient care management of system employees and family members can represent a significant offset to other lost or diminished sources of revenue.

Our Prospects Are Better Together

:

There are those systems that think they could participate as effectively in value based payment models by themselves or with just their employed base of physicians. There are certain areas of value creation that can only be achieved through close working relationship with a broad base of physicians in specialties and geographic locations beyond those in which they have employed physicians.