By Daniel J. Marino, MBA, MHA, Executive Vice President, GE Healthcare Camden Group
The Department of Health and Human Services' (HHS) press release on Monday announcing its fundamental shift in reimbursement, moving from volume to value in Medicare payments, reinforced the shift to value-based care. As discussed in our "Top Ten Healthcare Trends to Watch in 2015," organizations that begin to incorporate strategies around the "value proposition" will be in the best position to meet industry demands for value-based reimbursement. This will require a dedicated strategic "call to action" across organizations and their provider community.
Even with the HHS announcement, there remains a fundamental question regarding how quick an organization should move to value-based care and controlling the momentum of change. Although some of the drivers are market dependent, others are based on embracing key concepts around the "triple-aim principles" and preparing the organization for the future. High-performing organizations are building their clinically integrated networks, forming ACOs, and incorporating reimbursement programs around bundled payments and minimal risk-based contracts, while still reaping some opportunities from the current fee-for-service contracts.
The transition into value-based care is a paradigm shift of culture, care model redesign, reimbursement, and quality outcomes that takes time. Organizations that begin to plot the "value-based care" path now, while fee-for-service is still their predominant reimbursement, will be in the best position to refine their care delivery models and protect their revenue streams. It will come down to embracing the concepts of patient-centered care while focusing on improving access and reducing the cost curve. Health systems must begin to squeeze operating costs out of the system and incorporate patient-centered care models focusing on an "ambulatory-focused" model of care that carefully manages transitions across the continuum.
HHS will begin to set clear goals and a timeline that guide their movement from fee-for-service to fee-for-value for Medicare reimbursement. Many commercial payers in some markets have already begun the transition, with many more to follow. A strong value proposition along with creating the patient-centered strategy is key to finding the right "change momentum" for your organization. Focusing on providing the value proposition, engaging physicians to lead the care redesign, and incorporating programs such as bundled payments and shared savings help to make sure organizations appropriately embrace the pace of change within their market. It also ensures the organization can maintain a steady forward pace by balancing appropriate risk with solid potential for clinical and financial gains.
---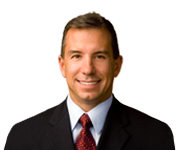 Mr. Marino is an Executive Vice President with Camden Group with more than 25 years of experience in the healthcare field. Mr. Marino specializes in shaping strategic initiatives for healthcare organizations and senior healthcare leaders in key areas such as population health management, clinical integration, physician alignment, and health information technology.