By Barbara Letts, Senior Manager, GE Healthcare Camden Group
As we introduced in recent posts, bundled payment programs are not only here to stay but there are more to come. CMS is targeting 90 percent of Medicare payments to be tied to quality or value, and 50 percent of Medicare payments tied to alternative payment models ("APMs") by 2018. Bundled payments expansion will be a significant contributor.
CMS will likely expand the Comprehensive Care for Joint Replacement ("CJR"), and the recently proposed cardiac bundles called Episode Payment Models ("EPMs") for heart attacks and bypass surgeries. All mandated and voluntary bundled payments programs are tied to a quality requirement as a condition for payment.
Examples of Programs Tied to Quality or Value
Hospital Value-Based Purchasing
Hospital Readmissions Reduction Program
Hospital-Acquired Condition Reduction Program
Merit-Based Incentive Payment System
Examples of Programs Tied to APMs
Medicare Shared Savings Program
Patient Centered Medical Home
Bundled Payments for Care Improvement
Oncology Care Model
Similar to CJR, two factors determine whether your organization will succeed (i.e., receive a reconciliation payment from CMS) under the newly proposed cardiac EPMs.
Quality performance will also be factored into the episode target price calculation. A hospital with "Good" or "Excellent" quality scores would receive a higher target price as a result of reduced discounts and therefore improve their chances to save. The quality scores are composed of the following measures:
Complications
30-day, all-cause, risk-standardized mortality post-AMI
Excess days in acute care after AMI
Voluntary hybrid 30-day, all-cause, risk-standardized mortality eMeasure data submission
Patient Satisfaction
Hospital Consumer Assessment of Healthcare Providers and Systems ("HCAHPS") score
CMS is considering replacing the current 30-day mortality measure with the Hybrid AMI Mortality measure. The hybrid measure includes the same current 30-day mortality measure as one component using claims data but also includess clinical status information composed of five core elements: age, heart rate, systolic blood pressure, troponin, and creatinine. Currently, CMS uses the AMI mortality measures for payment determination in accordance with the Hospital Value-Based Purchasing Program.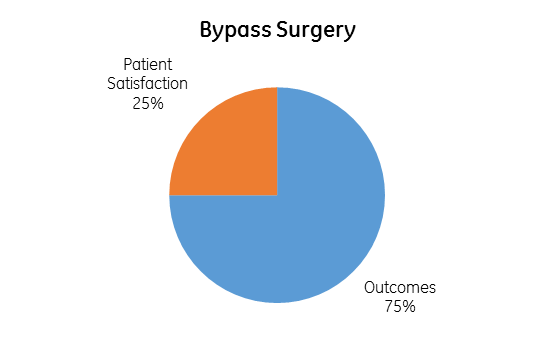 Outcomes
30-day, all-cause, risk-standardized mortality post-CABG
Patient Satisfaction
CMS plans to add the new CABG mortality measure to the Hospital Inpatient Quality Reporting Program in fiscal year 2017. HCAHPS are not specific to DRGs and reflects elements of care such as communication, pain management, discharge/transition information, cleanliness, and quietness. Additionally, there will be two variations for heart attacks: medical treatment (management) and revascularization (PCI) so there would be two different target prices.
Get Ahead of the Curve: Voluntary Reporting
One of the pain points we've seen with clients under CJR is the reporting process for voluntary submission of data. For organizations that have not prepared for bundled payments, it can be a sizeable learning curve just to understand the basic elements and concepts. The Medicare acronyms alone could get you in a tizzy. In regard to quality, if your HCAHPS scores are low and your mortality rates are average, you should consider voluntary reporting of clinical data to ensure acceptable quality scores at a minimum or you will be at risk for no payments even if you demonstrate reduced Medicare cost.
If there is one recommendation we would emphasize, it would be to get ahead of the curve with voluntary reporting. First, understand where you are today in regard to these measures (already being reported). Then, if there is risk of receiving a below-acceptable composite score, adopt a best practice process today for reporting and submitting clinical status information to Medicare whether this is something you develop in-house or contract with a vendor.
Other considerations iclude adopting these measures in other agreements or programs that have a quality requirement. For example, you may have a cardiology physician's professional services agreement or employment agreement with a quality incentive bonus. Start tying them to other measures that you know are coming your way, and are mandated. This allows for consistency and further aligns incentive payments to other initiatives that have a financial impact on your organization.
Additional recommended reading related to cardiac EPMs:
---
Ms. Letts is a senior manager with GE Healthcare Camden Group and specializes in financial advisory services for the healthcare industry. She has developed complex financial models for various types of healthcare entities including children's hospitals, large public hospitals, academic medical centers, community providers, medical foundations, clinically-integrated networks, and hospitals in turnaround situations. She may be reached at barbara.letts@ge.com.