To download a PDF version of this article, please click here.
GE Healthcare's purpose is to improve lives in the moments that matter. To achieve this purpose, we set a business strategy centered on aligning with customers to drive increased capacity, improved productivity, and better patient outcomes. Activating this strategy requires GE Healthcare to transform our business--moving from a traditional customer / vendor model to a vested partnership model. We are currently working across the country to identify customers who are open to this approach for jointly driving outcomes.
GE Healthcare's belief in our strategy and the need transform our business is driven by three core forces:
A focus on cost, driven by our unique two-sided perspective: As both a medical technology and service provider and a self-insured healthcare payer for hundreds of thousands of GE employees, family members, and retirees, we have both a social and an economic responsibility to be a part of the transformation within the healthcare industry. We recognize that the current pace of price inflation in healthcare is unsustainable, and GE Healthcare must align with our customers to help bend the cost curve by exploring new, outcomes-focused, shared-risk business models.
Precision Health: GE Healthcare believes precision health is a core enabler for driving increased capacity, improving productivity, and bettering patient outcomes. Moving to precision health will require our customers to acquire new technology and adopt new approaches to activating that technology. GE Healthcare is committed to aligning with healthcare providers to fully realize the vision of precision health for patients.
Disruptive Innovation: GE Healthcare has a long history of healthcare innovation, but to thrive in the future our product development strategies must be more directly informed by and supportive of the work our customers are doing to drive better outcomes at lower costs. De-risking investments in innovation requires GE Healthcare to align with our customers to ensure investment decisions support relevant outcomes and are effectively integrated into our customer's operations.
GE Healthcare's Performance Partnership Approach
GE Healthcare has invested in developing new business models with select provider organizations designed to unlock customer value by driving immediate outcomes while laying a foundation for a thriving future in the face of disruptions. Since 2016, this investment has focused on developing and refining the Performance Partnership relationship framework (please see the conceptual framework below).
Performance Partnerships are at-risk relationships centered on GE Healthcare and the customer working together differently to drive foundational operational improvements while also investing in more transformational and aspirational changes. The Performance Partnerships drive financial and operational improvements for the customer across three time horizons: Now (12-18 months), Near (18-36 months), and Far (36+ months).
Outcomes in a Performance Partnership are aligned to a customer's existing strategy and accelerated, amplified, and de-risked through the intentional application of GE Healthcare technology, analytics, and strategy/activation expertise. The capabilities GE Healthcare brings to bear in a Performance Partnership are always complementary to—not duplicative of—the customer's existing capabilities. Applying only complementary capabilities helps drive value that is incremental to what the customer could independently achieve. Unlike a transactional equipment, service, or consulting relationship, in a Performance Partnership a significant component of GE Healthcare's payment is tied to the customer realizing the committed outcomes.
GE Healthcare's ultimate goal in establishing a Performance Partnership is to work with the customer to drive outcomes that matter. Achieving this goal while working over the long-term in an evolving market environment, requires Performance Partnerships to be contracted around the "what" (the outcomes) not the "how" (work / projects done in the Partnership). By structuring Performance Partnerships around the outcome rather than around a specific list of projects, Performance Partnership are able to agilely respond to market changes and remain relevant to the customer over time. In a Performance Partnership GE Healthcare lives in the customer's reality.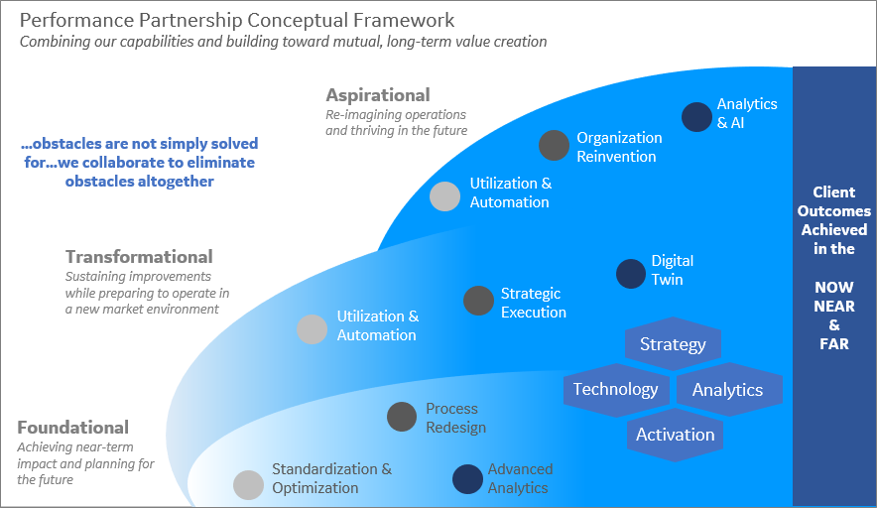 Driving Outcomes over Time: Aligning for Dual Transformation
Achieving outcomes in the Now, Near, and Far requires a different approach to working together focused on dual transformation. In a dual transformation approach, GE Healthcare and the customer work to position the customer's current business for maximum resilience while simultaneously shaping the customer's future growth engine(s).
Performance Partnerships accelerate and de-risk dual transformation by:
Providing customers with the capacity and capabilities needed to deal with current market realities. Through a Performance Partnership GE Healthcare will help providers amplify, accelerate and sustain near-term operating improvements
Helping customers de-risk aspirational transformation by tying GE Healthcare's payments to achievement of customer objectives
Giving our customers greater scale and expertise to deal with emerging technologies. GE Healthcare is a global leader in the medical technology and spends hundreds of millions every year on research and development
Customers could pursue dual-transformation alone, but successful execution often stretches staff capacity and requires leaders to simultaneously focus on long-term goals while ensuring the achievement of a short-term business objectives. Pursuing dual-transformation with a partner helps ease the journey and mitigate the risks.
Scoping a Partnership
Our relationships are scoped to meet the needs of each individual customer; the relationship can be broad (a performance Partnership) or can be more discrete (a Performance Relationship). The scope and scale of the relationship is entirely dependent on the mutually agreed upon vision and outcomes and on the complementary strategy, technology, analytics, and activation expertise GE Healthcare needs to apply to drive the outcome with the customer. The framework described above and the key relationship attributes described below apply in comprehensive Performance Partnerships and in discrete Strategic Performance Relationships.
Below are two example relationships of differing scope:
Comprehensive Performance Partnership
Vision: Re-imagining clinical asset management operations to maximize capacity of clinical assets and serve more patients faster with a better experience
Outcome: Increased return on invested capital
Scope:
Improved patient access through

Improved asset availability driven by clinical asset maintenance & service
Real-time analytics to guide flexible patient scheduling and access
Data-driven, system-wide capital and technology planning coupled with a refined capital acquisition process
---
Discrete Strategic Performance Relationship
Vision: Re-imagining Perioperative access and productivity to ensure patients get timely care in the best location
Outcome: Increased perioperative contribution margin
Scope:
Improved Perioperative Planning though simulation modeling, analytics and change management expertise to redesign the block schedules
Improved Perioperative operations through

Real-time data to monitor perioperative operations – assets in use, block utilization, staffing
Standardization on smart-Anesthesia equipment which helps reduce the time patients spend in the PACU
Redesigned instrumentation and supply processes
---
Attributes of a Performance Partnership
GE Healthcare has identified 6 attributes which are critical to a successful Performance Partnership. While the vision, outcomes, and scope of each Partnership are customized to the customer, these attributes must exist in every Performance Partnership.
Relational Governance: Effective governance is the key to a lasting relationship. GE Healthcare has worked with the Vested Way, a group out of the University of Tennessee, to understand how to effectively govern, long-term strategic relationships. The Vested Way did years of research on relationship governance, and by adapting this approach to the Performance Partnership model, we can create a relationship management structure focused on joint problem-solving rather than on the contract. The problem-solving approach allows us to pivot as the market, environment, and conditions change over time.

Co-Resourcing: GE Healthcare believes successful Partnerships require co-resourced work efforts. GE Healthcare is committed to co-resourcing the Partnership's work with strategy, technology, analytics, and activation expertise which complements but does not duplicate a customer's existing capabilities. GE Healthcare works with our partners to design a combination of the customer's resources/ expertise/ capabilities and GE Healthcare's resources/ expertise/ capabilities which enables the Partnership to deliver outcomes faster, more reliably, and to a greater extent than would be possible separately.

The ultimate goal of co-resourcing is:

(Customer Capabilities) +1 (GE Healthcare Capabilities) = 5 (Partnership Outcomes)

Aligned Outcomes: GE Healthcare and the customer must agree on how Partnership success is measured. Within the relationship, all co-resourced work efforts must be aligned to achieving the macro outcomes and must have a solid value model and baseline for measuring and tracking improvement. The relational governance committee ensures all work stays aligned to the macro outcomes and signs off on all achievements. In the co-resourced delivery approach, impact is shared not sub-divided between GE Healthcare and the customer.
Mutual Value Creation: Both the Customer and GE Healthcare must benefit from the Partnership. In a Performance Partnership the customer receives the benefits of the agreed upon outcomes, and GE Healthcare receives fees for its work to drive the outcomes, contingent on achievement of the outcomes. In a Performance Partnership GE Healthcare also becomes the preferred provider of technology, associated services, and advisory capabilities where those capabilities are in scope of achieving the outcome.
Program Management: Rigorous program management ensures a cohesive Partnership In each Performance Partnership GE Healthcare deploys an executive program manager to support the organization and coordination of the entire Performance Partnership. Trained in change management and relational governance, executive program managers help manage risk in the Performance Partnership and help ensure our customers experience a simplified GE Healthcare relationship.
Outcomes-Based, Shared-Risk Models: GE Healthcare's fees are tied to customer outcomes Fees and payment for outcomes work are tied to outcome achievement. We leverage non-traditional fee structures, risk structures, and can leverage various funding mechanisms to ensure clients only pay for the realized benefit of the Performance Partnership
GE Healthcare's Performance Partnership Experience
Since 2016, GE Healthcare has formed several Performance Partnership of varying scope and size. The graphic below outlines a selection of our Performance Partnerships: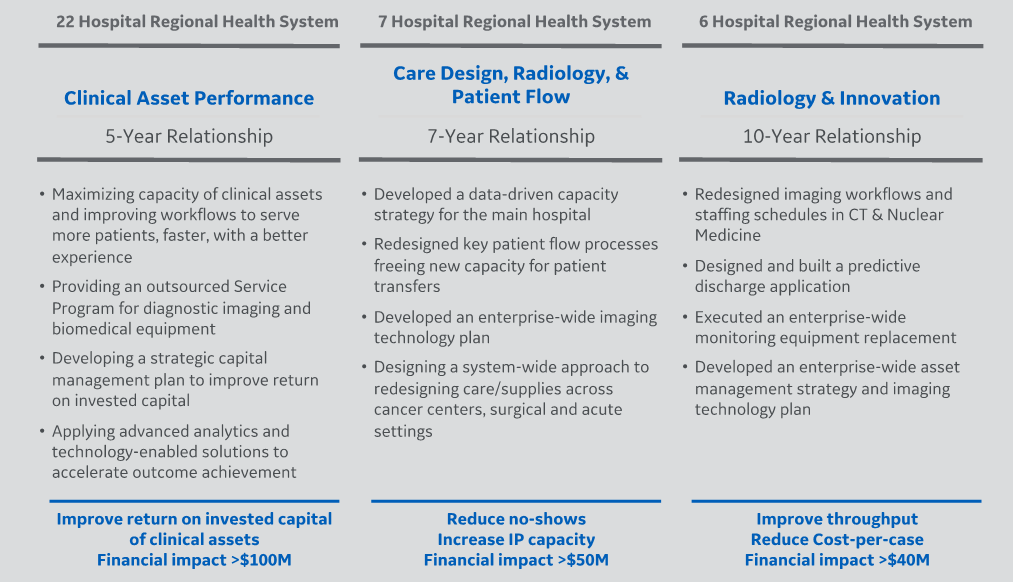 We hope this brief gives you more perspective on how GE Healthcare is seeking to better align with our customers by shaping business models around improving outcomes. Fulfilling GE Healthcare's purpose of improving lives in the moments that matter requires us to think and work differently, and Performance Partnerships provide us a platform for structuring unique, shared-risk relationships focused on enhancing and accelerating our customers' strategies. We look forward to further exploring how a Performance Partnership may assist you in accelerating achievement of your near and long-tern objectives.
---